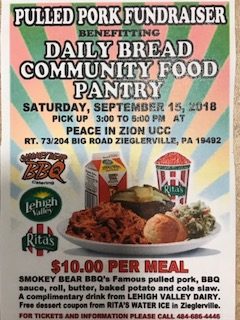 Pulled Pork Fundraiser benefiting Daily Bread Community Food Pantry
Saturday, September 15, 2018
Pick up 3 pm to 6 pm at Peace In Zion UCC
Rt. 73/204 Big Road Zieglerville PA, 19492
$10 per meal
Meals include SMOKEY BEAR BBQ'S Famous pulled pork, BBQ sauce, roll, butter, backed potato and cole slaw. A complimentary drink from Lehigh Valley Dairy and a free dessert coupon from Rita's Water Ice in Zieglerville.
For tickets and information please call 484-686-4446.