The best way to get started is to volunteer when we are open for client food distribution Wed 9 – 11 a.m., Thur 6 – 8 p.m., Saturday 9 – 11 a.m. or assist in stocking shelves on Friday evenings from 5 to 7 p.m.   Volunteers and organizations looking to volunteer should call or email to schedule a time.  First time volunteers should come to the office for direction. The following steps outline the process to join our volunteer team.
Step 1 – Complete the form shown below.  A message at the bottom of the page will indicate if that step was successful. If step 1 was successful you will receive an email asking you to verify your subscription to our mailing list.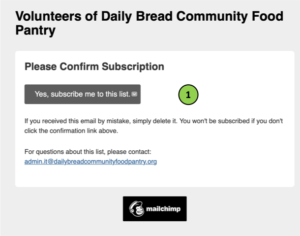 Step 2 – When you receive the subscription email, click the Yes subscribe button.  A new browser window will open.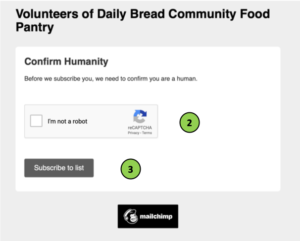 Step 3 – In the browser window that opens click the I am not a robot and complete the Captcha request.
Step 4 – After verifying you are not a computer (we prefer volunteers to be real people), click the subscribe button.
You will receive a second email welcoming you to the team.
It's that simple!  Are you ready to make a difference in our community?